Double column computer tensile machine
Product Detail
Product Tags
Main uses
It is mainly suitable for testing of metal and nonmetallic materials, such as rubber, plastic, wire and cable, optic fiber cable, safety belt, belt, leather composite belt, plastic section, waterproof roll, steel pipe, copper,sectional material, spring steel, bearing steel, stainless steel (and its high hardness steel), castings, steel plate and steel.Extrude, compression, bending, shearing, stripping, tearing, two-point extension (with additional extensometer) and so on. The machine is designed by mechanical and electrical integration,which is mainly composed of force sensor,transmitter, microprocessor, load driving mechanism, computer and color inkjet printer.It has a wide and accurate loading speed anforce range.It has high precision and sensitivity for the measurement and control of load and displacement.It can also carry out the automatic control test of isokinetic loading and constant velocity displacement.The floor type model and the painting process fully considered the principles of modern industrial design and ergonomics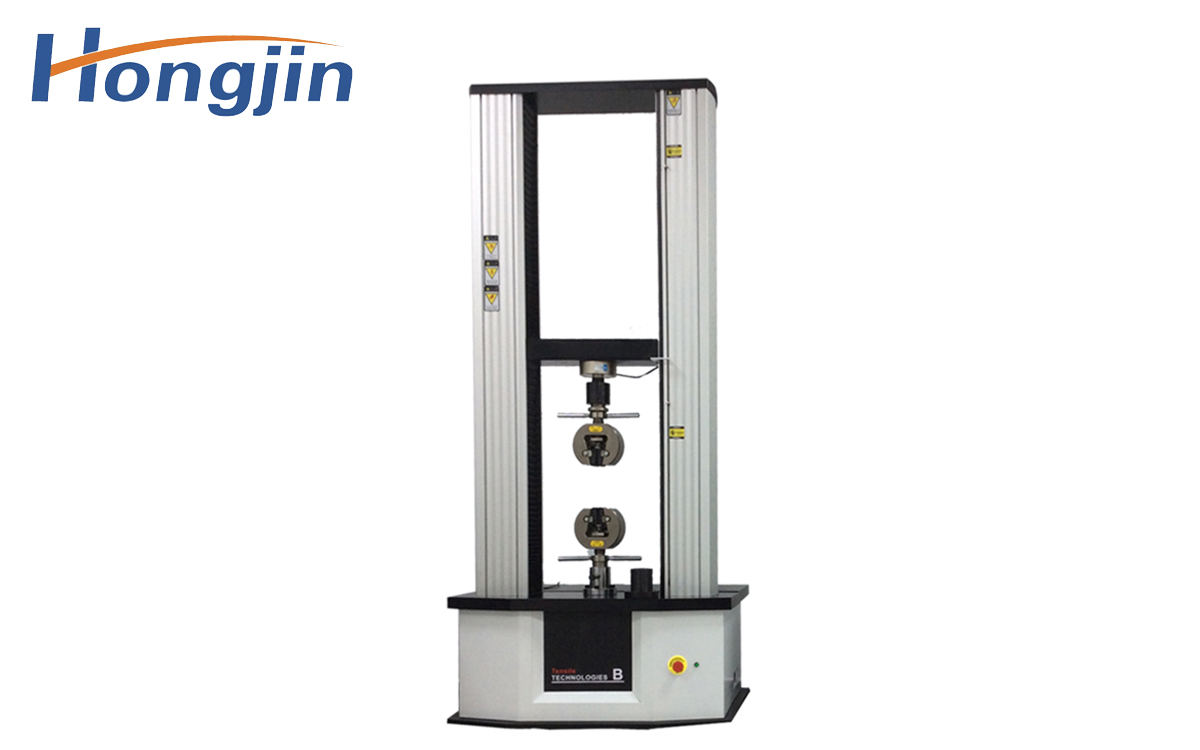 Host feature
The import photoelectric encoder is used to measure the displacement. The controller adopts the embedded single chip microcomputer structure, and thpowerful measurement and control software is built in. It integrates the functions of measurement, control, calculation and storage. It has the function of automatically calculating the stress and elongation (to add the extensometer), tensile strengtand modulus of elasticity, automatic statistical results, automatically recording the force value or elongation of the maximum point, breaking point, the specified point, the dynamic display of the test process and the test curve by the computer, and the data processing, after the end of the experiment. The data can be reanalyzed and edited by the graphic processing module for curve magnification, and the reports can be printed. The performance of the products reaches the international advanced level.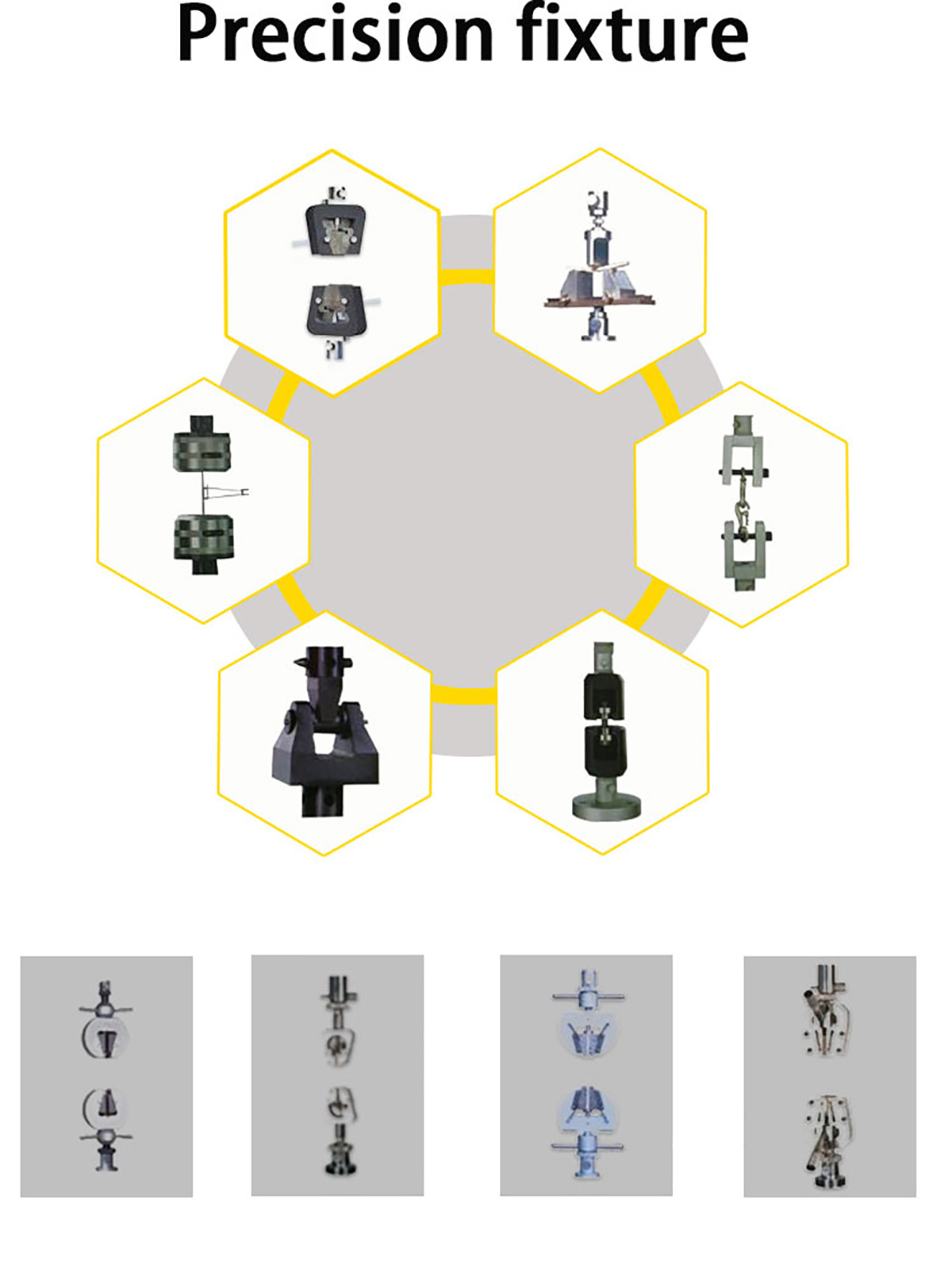 Testing platform
The microcomputer hardware platform can accurately collect and process data in real time. The interface of measurement and control is gentle, intuitive, clear and clear, and easy to operate.

Test force measurement
Load measurement: high precision spokes load sensor and high performance measuring and amplifying system are adopted to ensure the high resolution of the test force. Multiple sensors can be configured according to user needs to achieve wide range of test forces. Displacement measurement:using the 2500P/R high precision photoelectric encoder and the precision screw coaxial rotation, through the digital circuit to realize the weighing power control system. The full digital servo controller is used to control the high performance step motor drive synchronous gear belt and drive the precision screw drive with two pairs of high precision without gap.It has the characteristics of stable load,good low speed performance, no gap, high transmission efficiency,low noise and smooth transmission.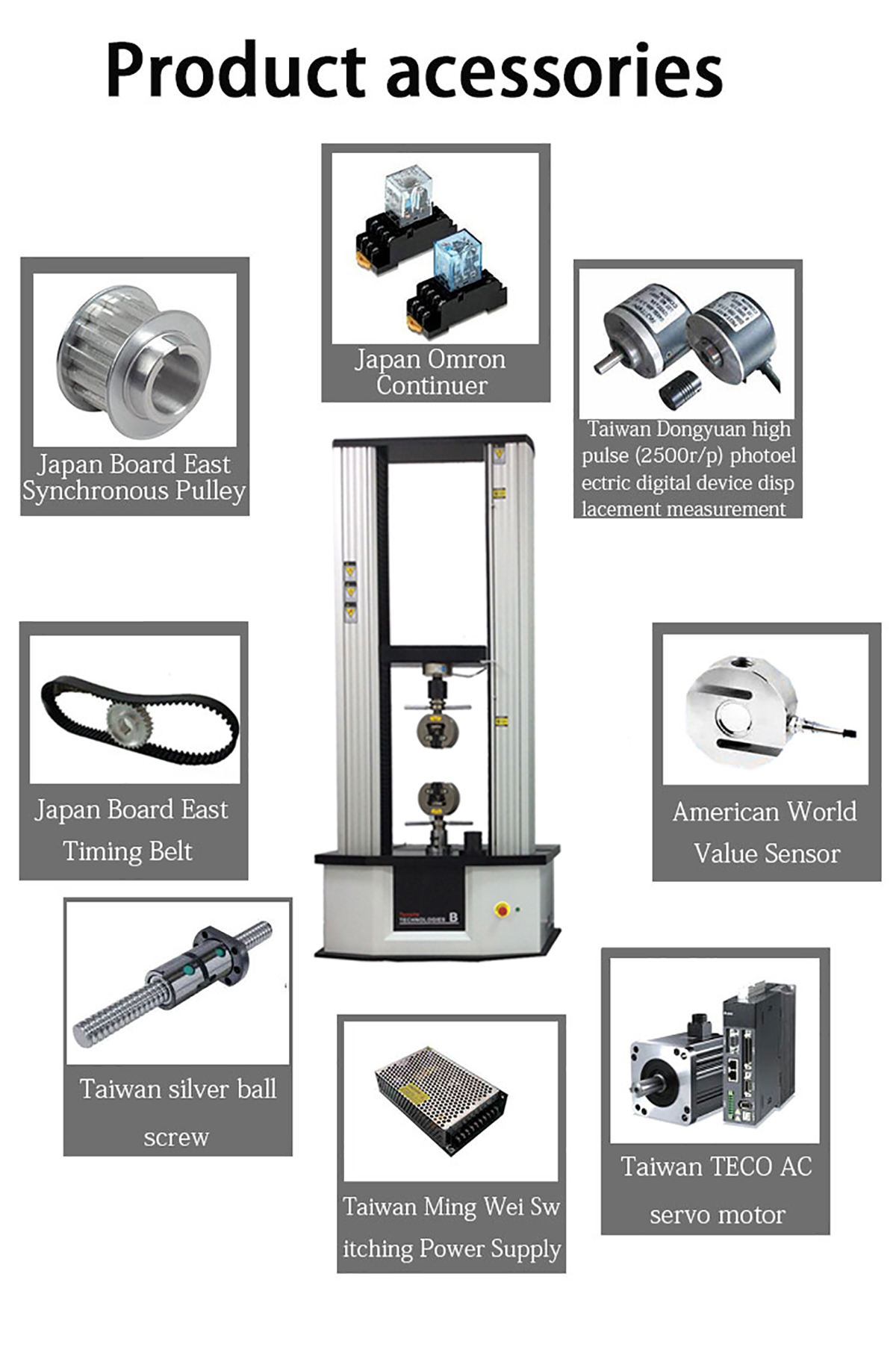 Equipment function
1.Automatic zeroing
2.Auto return
3.Automatic disk saving
4.The testing process, measurement, display and analysis are all finished by microcomputer
5.The data and curves are displayed dynamically with the experimental process.
6. Experimental results can be re analyzed with arbitrary access.
7.After the test is completed, the force and deformation data of the test curve can be found at point by point. 8.Program control and mechanical dual protection function;
9.Overload protection function;
10.Emergency shutdown function;
11.The tensile, compression, bending, shearing, adhesion, stripping and tear tests of the material can be carried out.
Maximum load
10KN(Selection of sensors with different specifications to achieve different accuracy)
Accuracy grade
0.5 class
Effective force measurement range
0.4%~100%(0.5 class)
Force measurement precision
Within±0.5%
Test machine resolution
Maximum load 1/300000,resolution invariant
 Trans cell
Basic configuration: pull and pressure sensor (maximum load). Extended configuration: multiple sensors can be added
 Effective test width Effective test width
400mm(can be widened according to customer requirements)
 Effective stretch space
800mm(can be higher by customer requirements)
Displacement measurement
accuracy
Within±0.5%
 Test speed range
0.01~500mm/min
Deformation measurement
accuracy
Within±0.5% ((large deformation or small deformation can be selected according to customer requirements)
Overload protection
More than 10% of the maximum load, automatic machine protection
Fixture configuration
A set of tensile fixture ,Shearing Accessories
Mainframe size
1200*530*1800mm(long * width * high)
Power supply
220V/50HZ,
Power
0.75KW(according to the different force demand, standard different power motors)
Packed weight
300Kg(include all accessories)
1. Are your company a trading one or a factory?
Factory ,13years focusing on test instruments field,3 years exporting experience.Our factory is in Dongguan, Guangdong, China
2. After an order is placed, when to deliver?
Usually about 15 working days, if we have finished products, we can arrange delivery within 3 working days.
Please note that our production lead time depends on the specific project and the number of projects.
3. What about the warranty with after – sales services?
12 months warranty.
After the warranty, the professional after-sales service team will provide comprehensive technical support to help customers solve problems encountered when using our products, and promptly handle customer problems and complaints.
4. What about the services and product' quality?
Service: ,Design service,Buyer lable service.
Quality: Each instruments must be carried out 100% quality examination and test, the finished products must through a third party calibration institutions before shipping and delivery goods.
---
Previous:
Plug life tester
---
Write your message here and send it to us